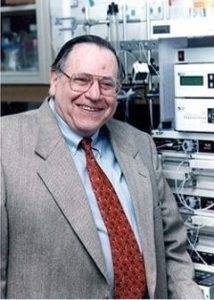 Ludwig "Lenny" Brand was a 48-year member of the Department of Biology, professor emeritus, and academy professor.
Brand's research focus was the dynamic structure of proteins, biological membranes, and nucleic acids and relating their dynamics to function. Using light as a probe in conjunction with molecular dynamics simulations, he examined ultra-fast dynamic interactions in proteins using nanosecond time-resolved fluorescence spectroscopy, an approach for which his lab was one of the early pioneers. Brand and his team were among the first to use time-correlated single photon counting, as well as introducing and developing the concepts of decay-associated spectra and time-resolved emission spectra.
A passionate teacher with a roaring laugh, Brand made quick fans of his students, colleagues say. He was so dedicated to the calling that even when he needed crutches or a walker following surgery, he still came to class. Known for his kindness, generosity, and humility, he had a tremendous impact on his departmental home.
Paul D. Feldman was with the Department of Physics and Astronomy since 1967. He was professor emeritus in the Department of Physics and Astronomy and Academy Professor.
He was a worldwide leading authority on comets who pioneered the field of ultraviolet spectroscopy of comets. In addition to pioneering contributions to cometary science, Feldman made similar contributions to the fields of planetary and satellite atmospheres and astronomical instrumentation. He was principal investigator of a NASA-supported sounding rocket program and was responsible for more than 50 sounding rocket launches to study the Earth's upper atmosphere, the aurora and the airglow, the atmospheres of comets and planets, the spectra of hot stars, and cosmic background radiation. He is largely responsible for Johns Hopkins' reputation as a leader in solar system ultraviolet astrophysics and spectroscopy.
Joel Grossman was an Emeritus Professor of Political Science and Academy Professor.
A renowned scholar of courts and the Constitution, Professor Grossman spent 33 years on the faculty at the University of Wisconsin-Madison before coming to Johns Hopkins in 1996. He was the author or editor of five books, including The Oxford Companion to the Supreme Court of the United States. He also authored a number of widely influential articles on courts and constitutional law. Professor Grossman served as editor of the Law & Society Review and received the Lifetime Achievement Award of the Law and Courts Section of the American Political Science Association in 2005. In 2007, Professor Grossman was recognized with the Krieger School of Arts and Sciences Teaching Award. He remained active as a member of The Academy after his retirement from the department in 2013, and in 2015, chaired a 14-member Task Force on Academic Freedom that was responsible for drafting a statement guiding academic freedom for the university community.
A native of Brooklyn, New York, Professor Grossman completed his undergraduate degree in political science from Queen's College, CUNY. He received his master's and doctoral degrees—also in political science—from the University of Iowa.
Longtime chair of The Writing Seminars (1977-1996), and Alonso Decker Professor in the Humanities, John T. Irwin, set the stamp on the department as a rigorous training ground in the writing of fiction and poetry. He was a prizewinner literary savant and poet, especially known for his book-length dramatic verse that was both comic and caustic, reflecting on such subjects as religion, marriage, talk radio, and Texas, his birthplace.
As a critic, his work ranged widely from writers of the American Renaissance to detective fiction; with monographs on Faulkner, Hemingway, Hart Crane, and William Faulkner. He was infamous for his Texas laugh, which could be heard down the corridor in the basement of Gilman Hall, and for his brain-wracking weekly quizzes.
Melvin L. Kohn (2021)
Melvin Kohn was an Academy Professor and Professor Emeritus, Sociology.
A pioneer in establishing the study of social structure and personality, Kohn spent 27 years in the Department of Sociology in the Krieger School of Arts and Sciences, including three as chair, before retiring as emeritus in 2012. His research combined class analysis and social psychology, with a particular focus on job conditions and their implications for personality development. A classic study marshaled survey data from Italy and the U.S. to show how job conditions affect not only parental values and personality, but also parents' socialization practices vis-à-vis their children.